Coating Roofs With Durable Spray Foam Products and Solutions
Spray Foam Roofing also known as Spray Polyurethane Foam roofing and SPF, is the most durable of the fluid-applied roofing materials. It is virtually impenetrable. It completely seals roofs from water infiltration. Spray foam adds structural strength and acts as the glue holding a home or building together. SPF roofing is resistant to extreme Florida weather and especially hurricanes.
Pooling water is not an issue with spray polyurethane foam roofing since it won't settle or sag and damage is typically isolated and easily fixed. Spray polyurethane foam is an excellent insulator with a high R-value. It is exceptionally energy-efficient, usually paying for itself in a few years with energy savings. It is an Energy Star-qualified product that will qualify for Federal Tax Credits. Your spray polyurethane roof can be sustained practically indefinitely with regular maintenance and recoating every 10 to 20 years. It doesn't contain any formaldehyde or ozone-depleting chemicals.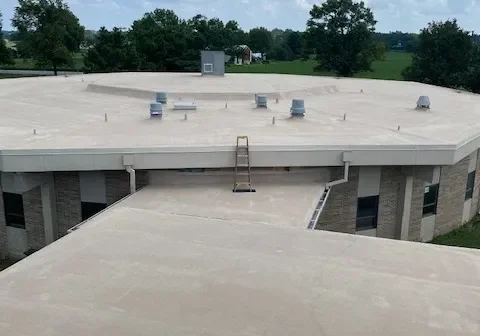 Fluid Applied Roofing products have been available for 30 years or more, but only in the last 15 years have they been perfected and widely used. Fluid Applied roofing is the process of coating an existing flat roof or metal roof system with multiple coats of an elastomeric roof coating to "create" a new roof system that is waterproof, seamless, and reflective. In the case of most flat roofs and all metal roofs, it is by far the MOST INEXPENSIVE way to reroof a building. A well-installed, fluid-applied roof will last 10 to 20 years and save a significant amount of energy and money by reflecting heat. Fluid-applied roofs usually pay for themselves in 5 years in energy savings. If a fluid-applied roofing system is used before complete or catastrophic failure of the existing roof it is unnecessary to tear the old roof off. They are available with leak-free manufacturer warranties and maintenance packages.
Conventional roofers are not qualified to install fluid-applied roofs. It is critical to choose a contractor who has the necessary experience with fluid applied roofing. The mixing of the chemicals and the application of the roofing material are skills that take training and experience to master. As one of the pioneering fluid-applied roofing contractors in the area with over 20 years of fluid-applied roofing, A to Z Coatings has mastered all of the accepted applications of fluid-applied roofing. A to Z Coatings is proud to have Walmart as a repeat client and as a point of fact, has mandated that all of its stores use fluid-applied roofing. That is a strong endorsement of the system.
Call today for a free on-site evaluation and find out if fluid-applied roof replacement is right for you! Please call us or contact us today for an on-site evaluation or free estimate.